There's Good Ham… And Then There's Farm-Fresh Ham
Browning's Country Ham is cured for up to 13 months, achieving an unforgettable flavor that simply can't be replicated.
Unlike other hams, Browning's isn't overly salty - just rich, wholesome, and cured to perfection.
We Are Committed to Premium Quality Products
With every product we offer, we're committed to delivering ultimate freshness, full-bodied flavors, and premium quality - from our farm to your home.
Great Ham For Formal Dinner Parties, Derby Parties or Sunday Supper
Whether you're hosting a formal dinner party or just having the family to Sunday supper, Browning's ham, bacon, cheese, biscuits, and other succulent selections give your guests a warm country welcome while catering to the most discriminating tastes.
Shop Online or Call Us For Your Catering Event - We Do Ham & More
Get Your Ham For Derby Parties
You and your family and friends will love our fully cooked, boneless Country Ham Cooked Center, perfectly aged for a year.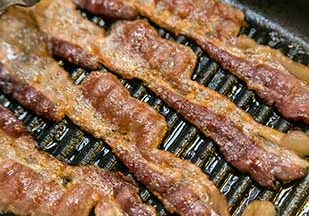 Shop The Best Bacon Ever
Browning's is known for its bacon! Stock up on ham, Amish cheese, soup and scones mixes, and biscuits while you're at it.
Call Us For Catering
We do more than ham in our mobile food trailer. We serve BBQ, pulled pork, cheese biscuits and much more.
Retail & Restaurant Partners
Sell our products in your retail location or at your restaurant. We work with the finest establishments to share the Browning's love.
Get Browning's Secret Recipes
We feature a new recipe each month like Browning's mouth-watering Country Bacon in a Sunshine Casserole.
Serving Kentucky Since 1970
It all started with a borrowed ham! Read the history behind Browning's Country Ham of Dry Ridge, Kentucky, formerly of Paris, KY.