Spiral Sliced Honey Glazed Ham | Perfect Holiday Ham
Our Spiral Sliced Ham is one of our best selling cooked country ham products and is sure to become a holiday favorite for your family as well. The honey ham has been aged to perfection for a full year just like all of our country cured hams.
Spiral Sliced Glazed Half Country Ham Serving Suggestions
This delicious honey glazed country ham is best when served at room temperature or lightly heated.
Our rule of thumb is 12 ounces per person with a spiral sliced ham. 8 lbs. will feed approximately 10 people (but there won't be any left overs.)
If a size is missing from the drop down, that means that we are sold out of that weight.
---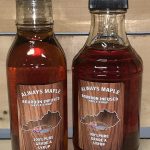 Try our Kentucky Bourbon Infused Maple Syrup as a glaze. You'll love it!
Description
Browning's Spiral Sliced Honey Glazed Ham is a Holiday Ham Classic
Our Spiral Sliced Ham is one-half of a Browning's Country Ham and boasts a subtle, slightly milder flavor while retaining its country cured taste. Select weights between 5.5 and 7 lbs at checkout and we'll deliver our delicious spiral sliced honey glazed ham to your doorstep just in time for the holidays.
Spiral Sliced Honey Glazed Hams Make Great Gifts
Order Browning's spiral sliced country hams as gifts this holiday season and we'll ship to multiple addresses. You'll make someone's day!
Our rule of thumb is 12 ounces per person with a spiral sliced ham. 8 lbs. will feed approximately 10 people (but there won't be any left overs.)
Additional information
| | |
| --- | --- |
| Dimensions | 6 × 6 × 5 in |
| Select Weight | 5.5 lbs, 6 lbs, 6.5 lbs, 7 lbs, 7.5 lbs |